Okay, not anymore...Man, let me say that non-nappies are in the comb making business...Sure, I could go buy one of those pics with the fist, but those don't do the job for me...One thing that's a universal Nappy Love is the Denman brush. Get one...They're cool...They don't rip your hair out, they last a long time...You can get them from Sally Beauty supply...
When washing, choose a wide tooth comb. I have one that i've been using for 10 years...No joke...I think I've more than gotten my money's worth...It's been a trooper...It's never lost a tooth...The plastic hasn't shred or done anything weird...It's a necessity...I've lost a few combs in my hair (seriously), but the wide tooth comb has held up!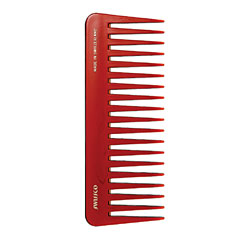 and for smoothing the edges...(or Kitchen...tee-hee), love my trusty boar's bristle brush.